Women's Conference & Advance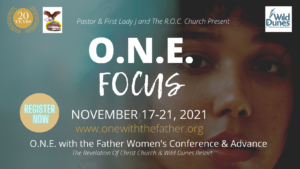 Event
Agenda
O.N.E. with the Father
Women's Conference
Wednesday, Nov. 17 – Thursday, Nov. 18
at The R.O.C. Church
Opening Night Worship Service
with a Spirit-Filled Praise & a Powerful Word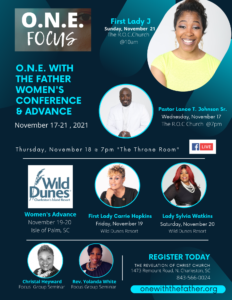 THE THRONE ROOM EXPERIENCE
"A Night of Prayer & Worship in the Temple"
***ORDER YOUR O.N.E. BLANKET***
to set aside a place to pray upon or wrap yourself in during the In-Person or Virtual Throne Room Experience.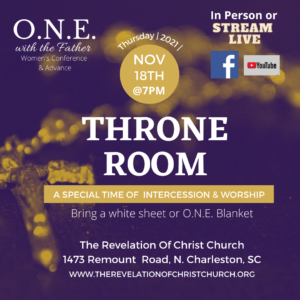 The Revelation Of Christ Church Facebook or
www.therevelationofchristchurch.org
———————————————————-
O.N.E. with the Father Women's Advance
Friday, Nov. 19 – Saturday, Nov. 21
WILD DUNES RESORT
Isle of Palms, SC
Excursions & Activities TBA
Friday Night General Session
Saturday, November 20 @ 6:00AM
Morning Glory On the Beach
Bring your blanket, chair, Bible, Journal, Coffee
Saturday Breakfast Buffet Included
Saturday Morning Focus Groups (Seminars)
Sister to Sister General Session
Be-You-Ti-Ful wit
h Lady Syl
*Spa Day, Shopping & Relax*
Saturday "Girls Night Out"
20 +1 Party "Wear All-White"
O.N.E. with the Father
Worship Service
Sunday, November 21 @10am
The Revelation Of Christ Church
O.N.E. with the Father
Women's Conference

&

Advance
@ The R.O.C. Church & Wild Dunes Resort
November 17-21, 2020
Spirit-Filled Worship Services
The Throne Room Experience
Morning Glory On The Beach
Saturday Breakfast & Dinner
Girls Night Out 20+1 "All White Party"
Sunday Morning Worship Service
REGISTER TODAY & RECEIVE UPDATES!
O.N.E. WOMEN'S CONFERENCE IS FREE
WOMEN'S ADVANCE
*SEE EVENT PRICING
November 17-21, 2021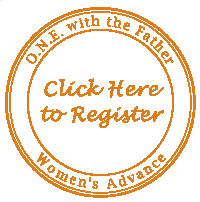 For more information call: 843.566.0024
or
for Women's Advance
$250 PER PERSON
***RESERVE YOUR SPOT TODAY***
FINAL PAYMENTS DUE
BY OCTOBER 19, 2021
Full Time College Student
$225 per person
*All payments are non-refundable
and non-transferable*
*PLEASE NOTE:

DUE TO COVID-19, CDC SAFETY GUIDELINES will be enforced for general sessions, seminars, and activities.
VACCINATION PREFERRED.
MASKS REQUIRED!
BOOK YOUR OWN WILD DUNES RESERVATIONS AT DISCOUNTED RATES!
Ea

ch person will be responsible for their own hotel accommodations which is not included in the event pricing.
*Reservations must be made on or before OCTOBER 19, 2021.
Reservations may be made, modified or cancelled by attendees through Resort's Reservation Department.
CALL (843) 886-6000 or 866-359-5593 (option #2) and referring to Group or Event name

.
Group Name/Code Revelation Of Christ Church – women's Advance/3HV60A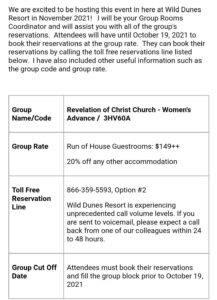 Reservations for rooms accessible to guests with disabilities may be made in the same manner.
Thursday, November 18 @ 7PM
The purpose of the Throne Room Experience is to set aside a space where you can worship the Father, and pray and intercede for your family, yourself, our nation, and our world, and be strengthened through worship, prayer, & prophetic Word from God. It will be a POWERFUL, INTIMATE TIME W
ITH THE FATHER! You can also purchase a
O.N.E. with the Father monogrammed blanket ($55) to set aside a place to pray upon and wrap yourself in during the virtual throne experience OR BRING YOUR OWN WHITE SHEET. With your blanket, you will also receive a vial of anointing oil to anoint yourself and consecrate your blanket! Get ready to draw closer to God and be strengthened in your relationship with HIm!
CLICK LINK BELOW FOR MORE INFO
MORNING GLORY ON THE BEACH
Saturday, November 20 @ 6:00am
Morning Glory on the Beach will be at an undisclosed location at the beach, where we will be SAFE & SOCIALLY DISTANT as we spread out, watch the sunrise, and spend time with the Father! Each person is responsible for bringing their own blanket or chair, Bible, journal, and coffee or hot chocolate
to rest in His presence and hear what God is saying to you in this hour as we prepare fellowship with our sisters in Christ!
*Beach Location TBA After Registration*
CLICK LINK BELOW FOR MORE INFO
Encourage & Empower Women with your gifts, talents, & services!