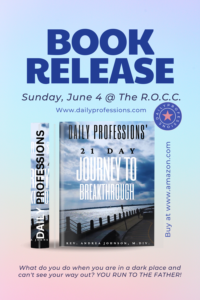 Announcing First Lady J's New & 3rd Book Release!
What do you do when you are distressed and you can't see your way out? What do you do when you are in a dark place of pain that could be mental, spiritual, emotional, or physical? I can't tell you how much my son's words woke me up that day. He spoke to my heart, and he saw what I did not see. You know when you are in constant pain, depressed, or even downtrodden over a certain set of circumstances from day-to-day situations, you can become immune even to your own joy. It is very easy to forget God is with you at times when you don't see a way out. And that's where I was. I was at a point that I felt doomed by my situation, didn't know what the root cause of my nerve pain was, and seeing a few different doctors did not change anything. I knew it was deeper than physical therapy and I needed to go further. It wasn't until I was able to pay for an MRI (because the insurance company would not cover it) that I finally went to an orthopedic surgeon who saw the root cause in my x-rays and was able to recommend my next steps that would lead to my deliverance.
But what happens when you can't see your end in sight, or the report from the doctor looks dark? What do you do? YOU RUN! You run to our Father, the most high God! This is why I wrote this book! God told me that I needed to share that even in the darkest hour of hurt and pain, there is always a way out. He is your way out! He wanted me to tell you step by step what I went through in my illness to help you get out of that dark place and place your feet upon the path of professing His word to lead you on your journey to breakthrough! This book is for YOU. To remind you that whether your pain is spiritual, physical, mental, or emotional, that God has not forgotten about you. As a matter of fact, he has come to see about you! As David said to God in Psalm 63:1 "When my heart is overwhelmed, lead me to a rock that is higher I." This is what DAILY PROFESSIONs is all about…professing the promises of God's Word daily so that you can experience the power and deliverance that He will bring in your life! And then in return, help someone else breakthrough by the profession of your faith.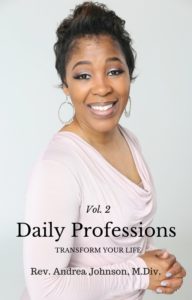 To Purchase Click Image
Daily Professions' devotionals by Andrea Johnson is a spirit-filled devotional that will draw you closer to God and strengthen your relationship with Him. In communicating with God, it is vital that we understand the power of God's Word rather than just quote Scripture. Therefore, this compilation of confessions and professions in this devotional is needed for the body of Christ to understand the difference between the two. Confession is an admission of fault, sin, and wrongdoing of one's own weakness. Profession is a verbal declaration of God's Word and promises. Confession leads to profession. Therefore, we confessed unto salvation, and now we must profess unto the promises God has proclaimed in His Word over us. This collection of 'Daily Professions' by Andrea Johnson, a.k.a. First Lady 'J' will cause you to dig deeper in your relationship with God & transform your life so that you can fulfill your destiny!
Daily Professions – Be a light & Profess Your Faith!
To see more Daily Professions products like Open Face Cards & Framed Art & DP Sweet Moments Desserts go to www.dailyprofessions.com
ENCOURAGE. UPLIFT. INSPIRE
.
ALWAYS KEEP GOD ON YOUR MIND
ALWAYS KEEP GOD ON YOUR MIND
Sometimes in life circumstances aren't always the way you want them to be. And things don't always go the way you imagined they would. However, I'm learning that you have to look for God in it all. You have to be able to stop and say God what do you want me to learn from all of this. How can I get closer to you through all of this? And sometimes you don't even have time to think. You just have to walk through it and trust that God is in control!
I did desserts this past weekend for a beautiful wedding on Folly Beach! No doubt they expected a beautiful day but tropical storm like conditions came through instead. As we were all busy trying to set up things in the wind and rain, it reminded me of the simple fact that even though it didn't go the way anyone thought it would, you have to trust God in the midst of it all! I said a prayer for the Bride and Groom, the wedding planning staff, and everyone there, and the wedding ended beautifully & they definitely enjoyed the DP Sweet Moments desserts 🙂
So be encouraged to know that even though it may not be the way you want it to be, look for God in it all! He will bring you through and give you a sweet moment…even in the midst!!! Here are some pics from their special wedding day and to God be the glory!
"Set your mind on things above, not on things on earth" Colossians 3:2
First Lady J
Author of Daily Professions
Books, Framed Art, & Sweet Moments Desserts
dailyprofessions@gmail.com
facebook.com/dailyprofessions
www.facebook.com/groups/dailyprofessions/
www.onewiththefather.org
Instagram – dailyprofessionsbyfirstladyj
Twitter @1withthefather & @DPbyFirstLadyJ