Ladies, this year the conference will begin Wednesday night, November 15, 2023 at The ROC Church with worship and a mighty word from Pastor Lance T. Johnson Sr. We will then travel to Omni Amelia Island Resort on Thursday, November 16, 2023 for the exclusive and powerful Women's Advance for a more intimate time with the Father & your sisters in Christ. Afterwards, we will travel back to The R.O.C. Church for the culmination of the Women's Conference.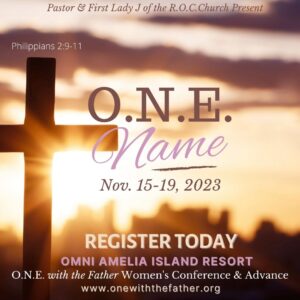 Spa & Fitness Services Available
Omni Amelia Island Resort
@ The Executive Center
This is a powerful time of worship & prayer where sisters in Christ will go further into the presence of the Lord as they wash & anoint themselves at the altar receiving a fresh bottle of oil. Each woman will receive a new prayer Ephod (shawl). One thing have I desired of the LORD, that will I seek after….
Awesome time of Praise, Worship, and spiritual breakthrough with the Word of God, and spiritual impartation from a powerful guest speaker! This will be a powerful time of deliverance where God will hide us in His pavillion and speak to our hearts so that we can move forward in our destiny!
Vendors
in Lobby of The Executive Center
]
*Wear warm clothes and bring coffee, blanket, bible & journal*
Breakfast with the Father
SISTER TO SISTER
Vendors in the Executive Center
9:45am-11:15am
Focus Groups I
Focus Groups II
*There is POWER in the name of Jesus
*Bishop & Pastor's Wives Only
*JUST FOR YOU*
Rest & Relaxation
1:00pm-7:00pm
*Spa & Free Time Activities
at The SPA at Sweetgrass
*Transportation Shuttle
Services Available
7:00pm – 10:00pm
A DAY OF VACATION & RELAXATION JUST FOR YOU
Explore Amelia Island & Travel Back Home
O.N.E. with the Father Women's Conference
Worship Service @10am
The Revelation Of Christ Church