Ladies, this year the conference will begin Wednesday night, November 17, 2021 at The ROC Church with worship and a mighty word from Pastor Lance T. Johnsonson Sr. We will return on Thursday, November 18, 2021 for "The Throne Room", a virtual time of worship and prayer in the sanctuary. Both services will be at The ROC Church at 7p.m.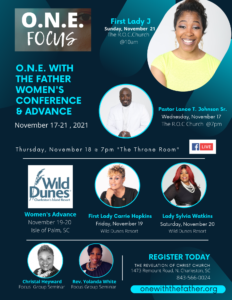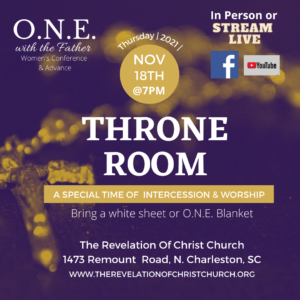 Friday, November 19, 2021
Spa & Fitness Services Available
Wild Dunes Resort
This is a powerful time of worship & prayer where sisters in Christ will go further into the presence of the Lord as they wash & anoint themselves at the altar receiving a fresh bottle of oil. Each woman will receive a new prayer Ephod (shawl). One thing have I desired of the LORD, that will I seek after….
"A Night of Breakthrough:
Thy Face Lord, We Will Seek"
Awesome time of Praise, Worship, and spiritual breakthrough with the Word of God, and spiritual impartation from a powerful guest speaker! This will is a powerful time of deliverance where God will hide us in His pavillion and speak to our hearts so that we can move forward in our destiny!
Saturday, November 20, 2021
Vendors in Sweet Grass Pavillion Foyer
]
*Wear warm clothes and bring coffee, blanket, bible & journal*
"Do You See What God Sees?"
Breakfast with the Father
SISTER TO SISTER
Be-You-ti-ful with Lady Syl
Vendors in Sweet Grass Pavillion
9:45am-11:15am
Focus Groups I
11:30am-1:00pm
Focus Groups II
Be-You-Ti-Ful with Lady Syl
Loss, Tragedy, Pandemic, Trauma"
*JUST FOR YOU*
Rest & Relaxation
1:00pm-7:00pm
*Spa & Free Time Activities
at The SPA at Sweetgrass
7:00pm – 10:00pm
Sunday, November 21, 2021
9:00am
Depart Wild Dunes Resort
10:00am
Services at The R.O.C.C.